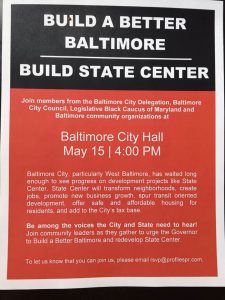 Dear Friends and Neighbors,
Please join us outside Baltimore City Hall on May 15th at 4:00 PM to help us meet our goal: showing Annapolis that we are ready and eager to Build a Better Baltimore: Build State Center.  
Baltimore City has waited long enough for Governor Hogan and the State of Maryland to show their commitment to helping our communities prosper.  Communities, like those surrounding State Center in West Baltimore, deserve the same attention that other Baltimore communities have received (e.g., Port Covington, Harbor East, Inner Harbor).
The State Center redevelopment will transform neighborhoods, create jobs, promote new business growth, spur transit oriented development, offer safe and affordable housing for residents, and add to the city's tax base.
So, why are we being overlooked?
Why is this project not moving forward?
Why is Governor Hogan not investing in us?
On May 15, 2015, we were part of a Food Truck Gathering to support moving ahead with State Center redevelopment. Two years later, there is still no action. So, this year on May 15, join us outside City Hall, as city and state officials and community members from all over the City ask the State government to move forward with this important project.
To urge the Governor and his administration to Build a Better Baltimore and show a commitment to revitalization and transportation projects in our neighborhoods, we are organizing an event with members from the
BaltimoreCity Delegation
,
Baltimore City Council, Legislative Black Caucus of Maryland
and Baltimore community organizations (
1000 Friends of Maryland,
the
Baltimore Transit Equity Coalition, NAACP Baltimore City Branch, State Center Neighborhood Alliance
& its members groups, the
Central Maryland Transportation Alliance
, and others) to raise our voices in support of State Center and projects that contribute to the vibrancy and vitality of our city.Please join us at
Baltimore City Hall on
May 15th at 4:00 PM
to help us meet our goal:
showing Annapolis that we are ready and eager to Build a Better Baltimore.  
As a leader in the community, we hope you are able to attend the event on May 15th. Please share event details and/or the attached flyer with anyone who may be interested in attending.
Please let us know if you can attend by emailing rsvp@profilespr.com.
We hope to see you on May 15th!
——————
The SCNA had another great event.  This time we teamed up with The Gathering and we hosted a Festival at the State Center site itself!  Read about it here.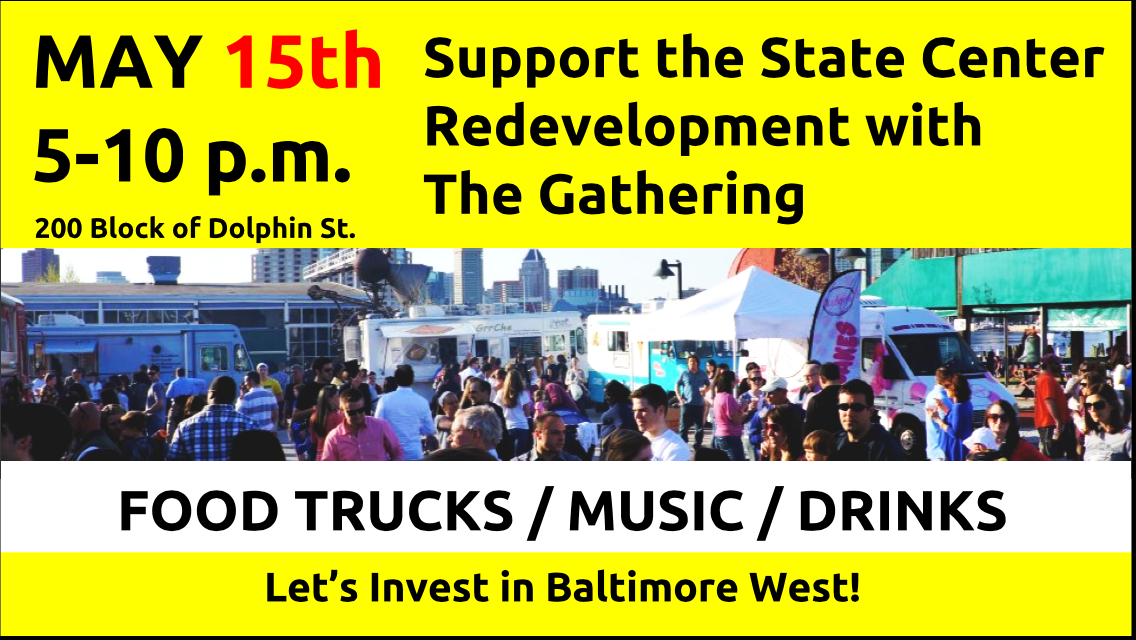 We remain steadfast in our support of State Center redevelopment, the jobs it represents, and other investments in the area. The State Center project is needed more than ever. It is ready to go and is vital to the Baltimore communities of the West Side where we are committed to seeing positive investment and growth.
We'll let you know when our next event is!
——-
UPDATE: Success!!  Thanks to you!
The day before the happy hour on 26 March 2015, Sen Pugh stated that she "absolutely" supports State Center Redevelopment. We are eager to hear more about her support and her actions to ensure moving ahead expeditiously. We know her schedule is full right now, but we did invite her to join us at the Happy Hour to Support State Center Redevelopment.  Although she wasn't able to attend – so many people from the community did!  It was great to see you all there, to hear about your ideas for the redevelopment of State Center, as well as ideas to #GrowBaltimore and #GrowMaryland.  This is a community effort, and one that will benefit us all.  We cannot wait to see you again!
——-
The State Center Neighborhood Alliance is working to put on a series of events to support, educate and advocate for State Center Redevelopment!
Our first event is a Happy Hour at Ryleigh's Oyster in Mt Vernon.
Date: Thursday, 26 Mar 2015
Time: 5:30 to 8:30 pm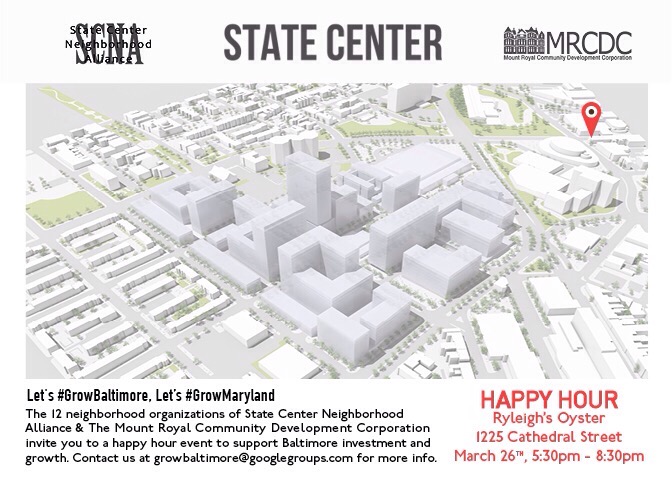 Here are additional ways to receive updates:
1. Join the SCNA Facebook Group.
2. Join & Share the Happy Hour Facebook event, and spread the word.
3. RSVP on EventBrite.
We hope to see you all there! Let's #GrowBaltimore, Let's #GrowMaryland!