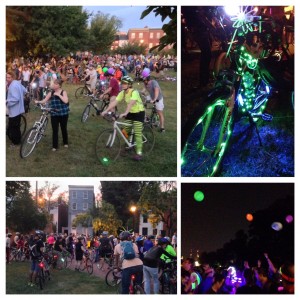 On the last Friday of every month, the people of Baltimore descend on Seton Hill's St. Mary's Park with their bikes to ride in the Baltimore Bike Party.  Each ride is themed, and is between five to 10 miles long.  The ride leaves the park at 7pm.
The ride is a great chance to get outdoors, see different parts of the city, and meet fellow bike people! Check their Facebook page for updates during the pandemic.
Here's what the Baltimore Sun had to say about the Baltimore Bike Party!