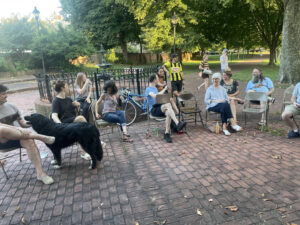 The Seton Hill Association General Meetings are at 7pm, and typically take place at the Visitor Center at St. Mary's Spiritual Center & Historic Site on the second Tuesday of every even month. The Visitor's Center for the St. Mary's Spiritual Center & Historic Site is located at, 600 N Paca St, Baltimore, MD, 21201.  If there are any changes to the location, notifications will be sent via email and added to the Seton Hill Facebook page. SHA also offers a virtual Zoom option to join whenever feasible.
For 2023, the General Meeting schedule is as follows:
Tuesday, February 14th at 7pm
Tuesday, April 11th at 7pm
Tuesday, June 13th at 7pm
Tuesday, August 8th at 7pm
Tuesday, October 10th at 7pm  *SHA elections are this month
Tuesday, December 12th – SHA Annual Holiday Party
Board Meetings, which are open to the general membership, are at typically at 7pm on the first Tuesday of every month, and are hosted by the President of the Seton Hill Association. If you are interested in attending, please send an email to president@setonhill.org.
For 2023, the Board Meeting schedule is as follows:
Tuesday, January 24th at 7pm
Tuesday, February 7th at 7pm
Tuesday, March 7th at 7pm
Tuesday, April 4th at 7pm
Tuesday, May 2nd at 7pm
Tuesday, June 6th at 7pm
Tuesday, July 4th at 7pm
Tuesday, August 1st at 7pm
Tuesday, September 12th at 8pm
Tuesday, October 3rd at 7pm