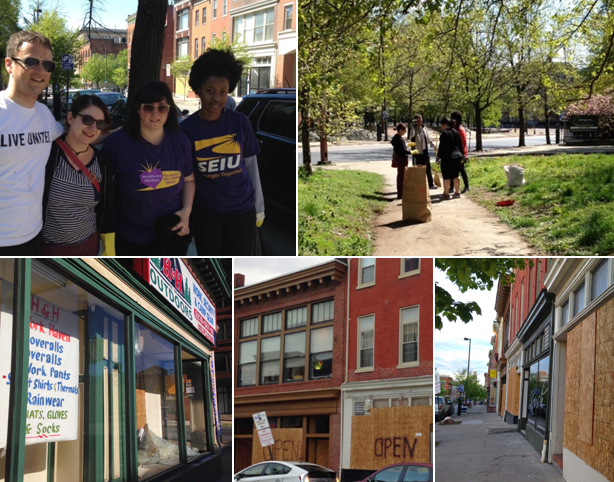 Seton Hill –
Now more than ever we need to unite as a community. Below is a list from the City regarding how to do this, as well as additional resources in the wake of the unrest from last week. As we look to rebuild, we hope to bring about a new normal for Baltimore.
Volunteering and Donating – Baltimore City established OneBaltimore to assist residents in need. Through collaborative efforts, leaders and community organizations are teaming up together to strengthen neighborhoods and restore damaged businesses and homes.
How Can One Volunteer? – Anyone can volunteer with the OneBaltimore cause. Volunteers are needed across Baltimore City in areas that are most affected by the recent events. You will be needed to assist with cleanup, the senior population and help out in the community. Calls can also be made to 311 and 410-545-1511 to locate volunteer opportunities.
Who Can Donate to One Baltimore? – Anyone can donate to OneBaltimore. All Baltimore City Community Action Partnership Centers serve as drop off locations for cleaning materials and supplies such as brooms, trash bags, gloves and water. For more information and center location, please call 311 or 410-545-1511.
Health Services – Senior Centers and most City Health services are unaffected. The Druid Clinic located at 1515 W. North Avenue reopened on Thursday afternoon. The CVS pharmacy located at 1000 S. Charles Street is operating. Patients that receive medications from the CVS pharmacy located at Pennsylvania/North have been directed to CVS located at 101 N. Wolfe St., phone number (443) 602 -7268.
Wellmobile Assistance to Penn-North and West-Baltimore Community – The School of Nursing Governor's Wellmobile will be deployed in the west Baltimore community beginning, Wednesday May 6th. UMB is partnering with Baltimore City to provide a "mobile community outreach center" for Baltimore City staff to utilize the remainder of the week.
Owners of Damaged Property in City Encouraged to Check Insurance Policies – The Maryland Insurance Administration provided the following message: "Property owners and business owners whose property was damaged in the recent violence in Baltimore City should contact their insurance agents or carriers to see if they are covered. Many policies, both for commercial and personal property, have provisions for civil unrest. In addition, comprehensive auto policies may cover damage from the violence. It's important to note, however, that not all policies include this coverage. If you are unsure whether your policy covers this situation, check with your agent, broker, or insurance company. As the state's insurance regulator, the MIA can: 1) answer questions about different types of insurance; 2) explain your rights and suggest ways to work out problems with your insurance company; or 3) investigate whether a company did what it said it would do in its contract with you and, if any laws or rules were broken, take action against the company. If you need assistance with a claim, call 410-468-2000 or 1-800-492-6116.
Please also visit BDC's newly launched website BaltimoreBusinessRecovery.org and register your affected business with them. Once you enter in your information, a BDC staff person will be assigned to you, so this should help expedite issues where the City is involved.

Alternatively, if you are interested in providing financial assistance to any of the communities affected by recent events, please email Susan Yum at syum@baltimoredevelopment.com.
Counseling For Those Impacted by Baltimore's Violence and Civil Unrest– Mayor Stephanie Rawlings-Blake and Baltimore Health Commissioner Dr. Leana Wen are coordinating efforts to address the trauma many individuals are experiencing. As part of this effort, a citywide outreach effort is underway to link schools, churches and community organizations with supportive counseling services.
The citywide trauma counseling/mental health response includes:
Ensuring 24/7 availability of mental health crisis services;
Providing group counseling and support for community members through schools, religious institutions, and community organizations;
Coordinating availability of mental health resources and matching them with ongoing need to promote citywide healing.
To access services:
For crisis services, call Baltimore Crisis Response at 410-433-5175.
Individuals and families who need assistance scheduling an appointment for mental health services, should call Behavioral Health System Baltimore at 410-637-1900, option #1.
Services for groups can be accessed by calling 311 and asking to be referred to the Health Department's mental health providers, or by sending an email to bchd2@baltimorecity.gov.
A big thanks to our Councilman Eric Costello for compiling this list!
If you have any questions, please contact the Seton Hill Association at president@setonhill.org.