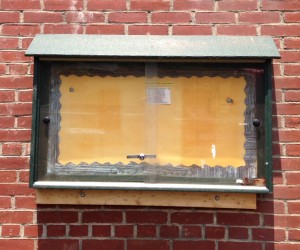 I'm sure you've noticed the message board.  Thanks to the park steward, John, it was recently moved down near the park building.  Right now there's not much in the message board – this is where you come in.
We're inviting all to join in and submit ideas for the background of the message board.  It can be Seton Hill themed, Baltimore themed, or specific to St. Mary's park.  Use your creativity!
Your design should cover a 2 feet by 4 feet area.
Take a picture and submit your fun and creative ideas to the Seton Hill Association board: president@setonhill.org
The next Seton Hill Association meeting is 12 August 2014, where all can vote on the submissions!